About me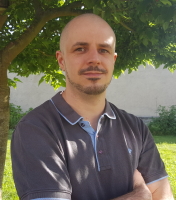 I am 38 years and was born on May, 19th 1985 in Troyes, the historical capital city of Counts of Champagne, where I still live in.
Concerning the professional aspects, I have two caps : on one hand, a side focused on uses, sociology of organisations, networking and communitarian networks ; on the other hand, a "geek" side, coming from web development and multimedia production.
After more than 8 years of consulting specialized in social-collaborative projects within the Orange group and it's large accounts clients, I now work for 6 years and 6 months in Provexi, as IT project manager. I help to evolve it's SaaS software solution, devoted to real estate portfolio managers.
My motto : "optimise to fear nothing".
Outside job and ICT, I am interested in transports, oenology, science-fiction and I like riding a bicycle.
You have interesting projects and you want we work together ? I would be pleased to join your teams in a 3 months delay.